Garena Free Fire New Update OB26 is now live. Here get 100% working pro tricks to level up quickly in Free Fire in rank mode.
In every battle royal games, pushing up a level is the prime focus for the players, and the same goes for Garena Free Fire. The main aspect of hard-core gaming is to show up a profile with an adorable Portfolio, rank and tier. Otherwise, what is the point?
However, you may not completely agree with me but I am pretty sure that you also want to push your level as quick as possible. In this latest OB26 update you need to focus on some specific points to climbing up on the ace in the game. So, here in this article, we are discussing pro tips and tricks to improve your gameplay and also strategies to level up quickly.
Trick to level up quickly in Free Fire New update
Before getting into the main topic, we must quote one thing is that you have to practice again and again to conquer the level you want. There is no shortcut but yep there is smart work which is more preferable to vain hard work. This article will help you to get the idea and sharpen your strategies to the next level. So, let's get straight into it.
1) Always Use EXP cards while playing Garena Free Fire
This easiest and smartest strategy every player should imply while playing Free Fire. There two kinds of EXP playing cards in the game with distinguished action. You can boost your EXP with every passing match by 50% with one of these. And others will help you to increase the identical by 100%.
You can purchase both of these cards from the game store with a negligible amount of money. You are also able to have them free from their guild or varied occasions. This is the simplest technique to make your gaming experience GG and OP.
You must See: DJ Alok Free Fire: Get it for Free See HD Photo Wallpaper
2) Ranked Matches is the Key to push your Level
Rank Matches will help you to level up quickly in Free Fire. It would be best if you will play as much ranked matches as you can to enhance your experience level. You may also have analysed the fact that increasing rank is way faster in Ranked Matches than that of classic matches. Playing the Team Deathmatch mode also impact a significant growth in EXP Level. Ranked matches or Team Deathmatch takes less time than classic matches. So, you can play more sets of games fewer times.
3) Survive till the last
We are not saying to be a snake and prone yourself for a whole match. That could destroy your gameplay. What we are mean to say here is that surviving for a large time period in the game will impact most significantly for improving EXP level. So, it would be best if you keep a record of surviving till the last 5th competitor for at least 30 to 50 matches. This trick will work for both Classic and Ranked matches.
4) Pick the Character Best Suited for You
Free Fire is one of those rare battle royal games where you get some unique abilities along with your character. There are 35+ characters in the game. We recommend exploring as many as you can and choose the best one as per your consideration.
Skyler is added with the new OB26 update this is one of the best choices for aggressive players, DJ Alok is also going in the same category. There are also amazing characters like K, Wukong and Chrono. What you need to do is judging your gameplay with every parameter and select the best-suited one.
Read More about: 5 Best Characters in Free Fire 2021
5) Choose the Correct Place for Landing
The landing spot is one of the determining factors in this game. If you want to up your level you should not engage in early combat with worn-out tools and a level 1 amulet. As we mentioned above survival is the key factor to increase rank.
Hot-drops are important to get the required items and improving combat skills. But if you want to increase the level and tier quickly then it would best to avoid the flight trajectory. The reason behind this, kills can improve your Exp level but Surviving time will improve your Exp level exponentially.
Also Read: CR7's Chrono Character in Free Fire: Get it for Free
6) Best Weapons Leads You to Win and Push the Rank
You must carry a best-suited weapon; this is the thumb rule for any battle royal game and Free Fire is not any exception. Players who like to play safe and avoid close combats can opt for one long-range and one mid-range gun to back them up and vice-versa.
In the latest OB26 update, you are getting to enjoy an updated version of Groza, M1014, UMP and M249 with better damage, recoil and firing rate.
7) Always Carry a Vehicle
Carrying a vehicle till the very end of the game is the smartest move every pro gamer always pick. A vehicle helps you to move faster and avoid zone shrinking damage. On the other hand, it works like a shield to avoid damage to a certain extent. We also recommend carrying a sports car or jeep to get a better result while rushing.
8) Play Squad matches with your friends
Playing solo games is not the choice you should opt for because it is hard to push rank in solo matches. On the other hand, playing with random players is not fruitful due to a lack of coordination.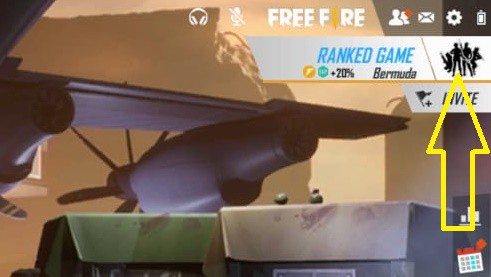 We always recommended playing with your mates; this will improve your collaborative effort and developing your strategies. You must have seen a lot of streamers always plays with a selective squad because this will improve the gameplay, help to level up fastly and also increase the rank points.
9. Update Your Settings
This is the most technical approach in the game. There are several settings regarding sensitivity, device, network and usages etc. You can try as per your suitability and then sort out a single standard one to proceed. You can change the controls, pick-ups and sensitivity from the settings segment. There is a default setting already set in your game. Making your setting is far better than copying from any other; you can take your favourite streamer's settings for reference but don't copy-paste that. You can see your Exp increasing in the profile section by tapping on the level.
You may like: 150+ Best Stylish Free Fire Names 2021
Final words
This new OB26 update is full of surprises. So, it is very important to improve your strategies and also gathering basic knowledge about the game. You just keep these 9 key factors in your mind and see your gameplay improving exponentially and drastically. These are the very basic and simple steps for budding gamers to improve their gaming experience and level up quickly in Free Fire OB26 update. Hence, we conclude that these are the essential steps to make but one should keep practising to polish your skills. Practice makes the gamer pro gamer.