DJ Alok is the most Popular Character in Free Fire. If you are willing to unlock Alok, then get started with this post. Free Fire Gamers now unlock your favorite DJ Alok Character in Free Fire for Free of cost. Also, know the latest Free Fire Tricks From this post.
Nowadays, the e-gaming industries are growing drastically. After the ban of PUBG Mobile in India, the Free FIre has the highest market cap in the world. More than 500 Million people are now playing the Garena Free Fire. You are one of them.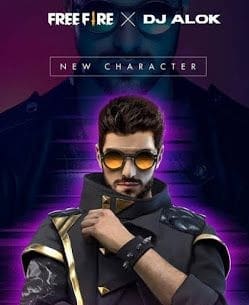 Garena Free Fire is now very popular due to its Characters and Gun style. It has more than 34 characters. Everyone has different abilities and styles. But gamers have a great desire to use the DJ Alok character. But its cost is too high, i.e., 500 Diamonds. So, everyone hesitates to purchase him. But in this post, we will show some unique procedures by using which you can Unlock the DJ Alok character for Free.
Other Popular Posts
DJ Alok: Alok Achkar Peres Petrillo
Alok's Full Name is Alok Achkar Peres Petrillo. He is from Brazil. In his profession, he is the most popular musician and DJ Music, creator. In the year 2020, he created the 5th most popular DJ Music in the world of DJ Mag. Apart from this, he has been awarded Best DJ in Brazil 2014, Best Remix award 2019-20, top 30 DJ Creator and most powerful influencer, etc.
Short Overview DJ Alok
| | |
| --- | --- |
| Name of the Character | Alok |
| Introduced in FF | 2020 |
| Sex | Male |
| Year of Born | 26-August-1991 |
| Occupation | DJ Creator and Musician |
| FF Ability | Drop the Beat |
| Cost of the Character | 599 Diamond |
Alok Character Ability in Free Fire
Gamers believe, the Alok Character is the most Powerful character in Free Fire Game. Due to his special ability, he is debatable among the players. Alok uses the power of music. He has the special survival ability Drop the Beat. This is a special ability.
When the enemy attacks you, your HP will go down. But, if you have Alok then, he will create a 5m aura around him. He will increase moving and sprinting speed and restore the HP, which is awesome!
Also Read: Jio Free Internet Tricks
DJ Alok Memory Speed and HP Boost Steps
DJ Alok's Drop the Beat ability has different moving and sprinting speeds at different levels. You have to collect Memory fragments to unlock the speed percentage. Here, the default cool down time is 45second.
| Level | Moving and Sprinting | HP Restore per 5 seconds | CD Time |
| --- | --- | --- | --- |
| 1 | 10% | 5 HP | 45s |
| 2 | 11% | 6hp | 45S |
| 3 | 12% | 7HP | 45s |
| 4 | 13% | 8hp | 456S |
| 5 | Summon Air Droper | _ | _ |
| 6 | 14% | 9hp | 45s |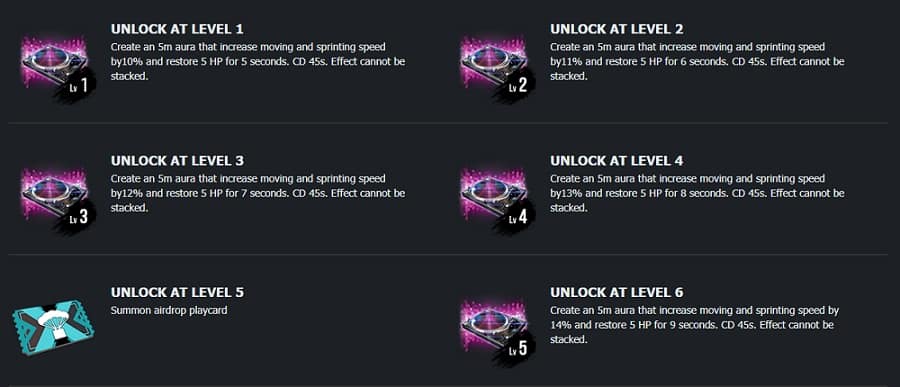 How to get DJ Alok Free without Top-Up?
Alok is a premium character in Free Fire. If you want to unlock him, then you have to spend a huge number of diamonds. It costs around 599 diamonds. If you go for 600 diamonds, it will cost approximately Rs.610/- or 8.34 USD. If you have short of money, then you can use different tricks to unlock this character. In the next paragraph, we have described the best diamond gaining tricks.
Trick-1: Air Drop Collection Trick
Guys, the best and safe way to claim Alok is the AirDrop Collection trick. You know, an airdrop gives you up to 300 Diamonds. Hence, if you collect two airdrops of Rs.10/-, you will receive approximately 600 diamonds. You have to collect two Rs.10 or Rs.29/-airdrop in your ID. When your diamond count reaches 600, unlock the Alok DJ character.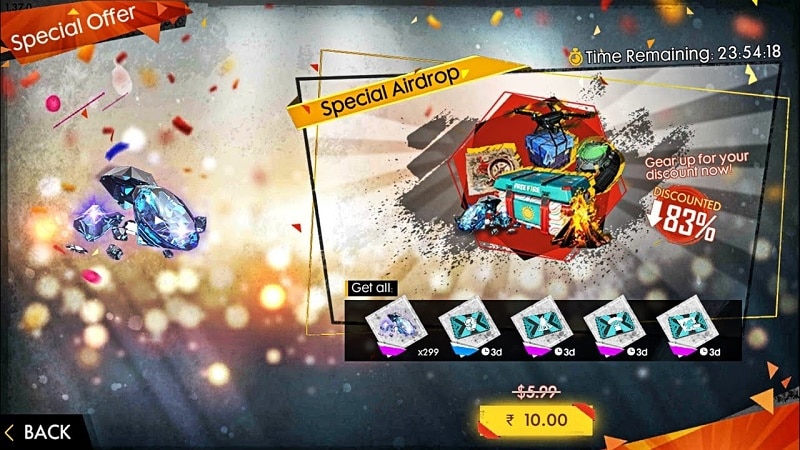 What to do if I am not getting Rs.10/- Airdrop? Well, maximum may be facing this common problem. First of all, Free Fire is doing business. Hence, it will not offer everyone airdrop free. But, you have to apply a trick. Create a new Free Fire Guest or a Temporary ID using a new Google or Facebook account. Make BOOYAH! by playing two or three clash squad matches. You have to kill maximum people. After that, you will collect Rs.10 or Rs.29 airdrops. If your drop contains 300 diamonds @10 or @29, then purchase it. Otherwise, try again. Do the same twice. Once you reach the 600 diamonds, unlock Alok and gift it to your main ID.
Note that you don't purchase and open any airdrop until you get two airdrops of 600 diamonds airdrops.
Trick2: Google Play Diamond Top-Up Hack
Yes, you have read the right heading. Google Play Diamond Top-Up hack. Well, you don't have to either write a bunch of code or install any virus-infected Android application. , purchase Google Play codes without paying single rupee money and Top-Up Free Fire Diamonds free.
Want Free Google Play Redeem Codes? Click Here
Amazon Pay 100% Cashback offer
Amazon Pay is now newly selling Google Play gift Vouchers. In its promotion, Amazon is offering 100 percent cashback. Under this offer, you will earn flat Rs.50/- on minimum purchase of Rs.50/- gift voucher. Just take advantage of this offer from Amazon and collect as many vouchers as you can. Note here; this offer is valid for some specific Accounts. Check your Reward section by clicking here if you are eligible.
Free Amazon Pay Gift Vouchers are Available Here
Trick-3: Survey and Opinion Reward
More than a dozen Android applications are available in Google Play Store, collecting online customer opinions and survey forms. In exchange, they offer a Google Play Redeem code. You can install Google Opinion Rewards, Survey Monkey, Survey Heart app to get free Redeem codes. When your money becomes sufficient for DJ Alok, you can buy it for free.
Steps to Unlock Alok Character in Free Fire
DJ Alok Character is available in the FF Store section. Hence, firstly open your FF Apk.
After that, click on the Store button from the dashboard.
Now you will see different sections of the store. You navigate to the Character Page.
From the list of characters, choose Alok Character.
Before clicking the unlock button, make sure that you have sufficient diamonds in your wallet.
Finally, click the Unlock Now button, and you will unlock your Alok character in your Id.
Common Questions Everyone Ask
Who is DJ Alok?
DJ Alok is a musician from Brazil. He is a DJ sound creator. For the promotion, Garena Company (Parent of Free Fire) had made a contract with him.
What is the ability of Alok?
Due to its ability, gamers assume, DJ Alok is the most powerful Character in FF. The Alok has the Dop the Beat Ability. He will create a 5m Aura around him; this Aura will boost the speed and refill the HP.
Which is better ALok or Kla?
Both Alok and Kla has different abilities and power. However, people like Alok rather than Kla.
How to get DJ Alok in Free Fire Game?
DJ Alok is a premium character in the game Free Fire. You have to use 599 Diamonds to unlock this character. First, Top-Up your Diamond wallet and unlock the character. In the post, we have described the steps to get Free Diamonds without Top-Up.
Also See: BGMI MOD Apk Download for Free UC