Newly Added 100% verified Working Tricks for getting 1-Year Disney+ Hotstar VIP Subscription Free. Enjoy India Vs Nezland T20 Live, IPL Live Matches, Pro Kabaddi, Cricket, Movies, Tv Serials, Live Tv, Web Series, News, Disney Cartoon, and lots more at tv.hotstar.com. With the help of this post, you could save up to Rs.1000/- on Hotstar Premium Subscription.
Disney+ Hotstar is the most downloaded OTT Application in India. It offers innumerable Entertainment content like Latest Hindi, Telugu, English, Bengali, Tamil, Gujarati, Marathi Movies, new web series, Tv Serials, Live TV, Sports, Cricket, News, Cartoon, and Lots more. Some of them are available for free, but most content required either Premium or VIP Subscriptions. If you subscribe, you will have to pay some charges.
Hotstar Premium Packages in India
Hotstar is the official broadcaster of IPL, ICC Cricket, and other games. You can also watch movies before the cinema hall. But you have to pay the annual subscription charges. In India, Hotstar is offering the following Charges for various Plans.
| Name | Price | Benefits |
| --- | --- | --- |
| Mobile | ₹ 499 | Watch only on Mobile, 1 Device, 720p |
| Super | ₹ 899 | Watch on Tv & Laptop, 2 Device, 1080p |
| Premium | ₹ 1499 | Watch on Tv, Mobile, Laptop, 4 Device Login, 4K video |
If you want to get Hotstar Premium or VIP Subscriptions for free without paying any money for now, then this post can help you. So, without giving the introduction, let's begin the Tricks.
Tricks to getting Hotstar VIP Subscription Free
Hotstar is the most popular Global Video Streaming Platform. Novi Digital and Star Entertainment Limited own it. It offers two types of Subscription:
VIP Subscription
Hotstar Premium
I know you are looking for Hotstar Premium Free. But let me clear that you can not get any subscription directly for Free. For getting this, you will have to take the help of some third-party apps and websites, which I mentioned below.
Hotstar VIP Free using Airtel SIM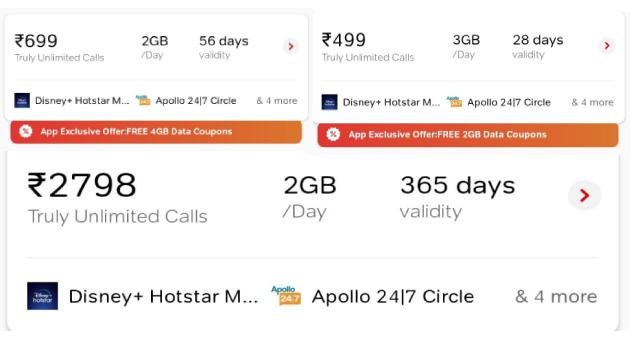 Airtel is the biggest Telecom Player in India. Nowadays, the Company is offering Free VIP Services for 1-Year. For which you have to choose special Prepaid Recharge Plans.
If your account Airtel recharge balance is exhausted, before the next recharge, think about the plan given below.
| Plan | Benefits | Validity |
| --- | --- | --- |
| ₹ 499 | 3GB/Day + 1 Year Hotstar VIP | 28 Days |
| ₹ 699 | 2GB/Day + Annual Hotstar Pack | 56 Days |
| ₹ 2798 | 2GB/Day + 1 Year Hotstar Mobile Edition | 365 Days |
After making a Recharge with anyone plan in your Airtel Number, you will get an exclusive 1-Year Hotstar VIP Mobile Edition Subscription for Free. Along with this, you will also get 3- Months of Appolo 24×7 Circle, Free Online courses from Shaw Academy, Rs.100 FASTag Cashback, Wynk Music Premium, and Free Airtel Hello tunes.
How to Activate the Hotstar Premium After Recharge?
Once you complete the Recharge with the above plan, you will get a Special Hotstar VIP Activation Link from Airtel. You have to open the link through the tv.hotstar.com package Hotstar App. Then log in to your account. That's it, and your Free 1-Year Subscription will be activated.
Hotstar Premium with Jio

Since the launch of Jio, the company is bringing new offers and Packages for its users. Looking at the upcoming IPL matches, Jio has introduced Jio Cricket Recharge plans. On recharging the package, you can enjoy a 1-year Hotstar VIP Subscription with no extra costs.
Besides these plans, there are many Active Plans for activating Free Hotstar Offers. Choose your plans as per your budget and recruitments. All the below-mentioned plans come with the 1-Year Hotstar Mobile Package, Unlimited Calls, and 100 SMS per day.
| Plan | Benefit | Validity |
| --- | --- | --- |
| ₹ 499 | 3GB per Day + 6GB Data +1 Year Hotstar Mobile Edition | 28 Days |
| ₹ 549 (Data Voucher) | 1.5GB per Day Data + Hotstar Pack (No Voice Call) | 56 Days |
| ₹ 666 | 2GB per Day Data + Disney+ Hotstar Mobile | 56 Days |
| ₹ 888 | 2GB per Day + 5GB Data + 1 Year Free VIP Subscription | 84 Days |
| ₹ 2599 | 2GB per Day + 10GB Data + Annual Hotstar Subscription | 365 Days |
How to Activate Hotstar Premium VIP Free in Jio?
After making the recharge, you will receive the Hotstar Premium Account Access in your My Jio App. To- Avail of this offer, you have to Sign-in to the Disney+ Hotstar App with the Mobile Number on which the Hotstar plan was recharged.
Hotstar Vi Offer
India's third-largest Telecom Company, Vi, is also offering Hotstar Mobile Edition Free Package. You can enjoy 1-Year of Free entertainment, Mobile Data, Voice Calls with the same package.
If you have a Vi SIM card, then next time, try to recharge your phone with the following Package to Avail yourself of uninterrupted Live Cricket Matches for Free.
| Plan | Benefits | Validity |
| --- | --- | --- |
| ₹ 501 | 3GB/Day + 1 Year Hotstar + Weekend Data Rollover | 28 Days |
| ₹ 601 | 75 GB Data + Free Hotstar VIP | 56 Days |
| ₹ 2595 | 1.5GB/Day + 1 Year Hotstar Mobile + Weekend Data Rollover | 365 Days |
Jio Fiber Free Hotstar Subscription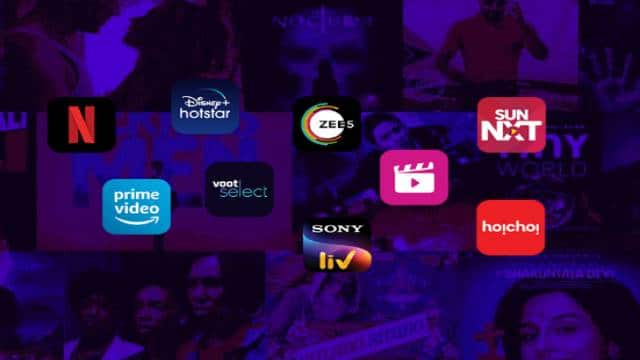 Jio Fiber is the Optical Fiber Cable Service provided by Reliance Industries. Since its launch, people choose the Jio Fiber Free Trial and Subscription over the other operator's service. This is because, with Jio Fiber, you are getting 13 popular OTT subscriptions for free.
If you live in a city, activate your Free Trial this month to enjoy the IPL Cricket matches free. We have also published a trick by which you can enjoy a flat 12- Months of Jio Fiber Free Trial and Hotstar Premium Subscription.
The Disney+hotstar Premium Free Subscription is available from₹ 999/- and more plans. Hence, you have to choose plans carefully.
| Price | Benefit |
| --- | --- |
| ₹ 999 | Unlimited 150 Mbps + 12 OTT Free |
| ₹ 1499 | Unlimited 300 Mbps + 13 OTT Free |
| ₹ 2500 | Unlimited 500 Mbps + 13 OTT Free |
| ₹ 3999 | Unlimited 1 Gbps + 13 OTT |
| ₹ 8499 | 6660 GB @1 Gbps + 13 OTT |
Airtel Xstream Fiber Hotstar with Hotstar Premium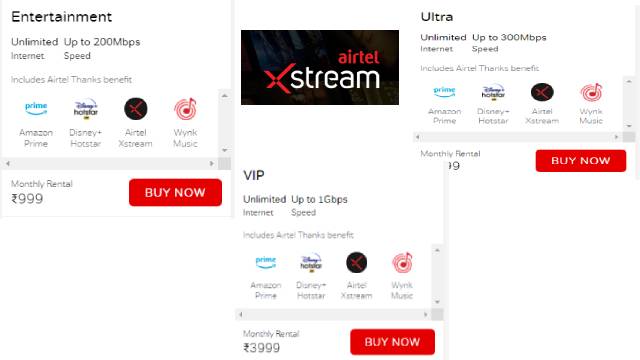 Jio Fiber's main competitor Airtel Xstream Fiber also offers a pretty similar type of offers and Deals on Hotstar Free Subscription. Using this service, you can access unlimited Internet through Optical Fiber Cable. When you choose the Xtreme plan of Rs.999/- or more, you will get different OTT packages along with Hotstar VIP Subscription for Free.
BSNL Fiber Hotstar Offer
Flipkart Supercoin Hotstar Mobile Offer
Flipkart Super coin is the best way to get both Hotstar Premium and VIP Subscription free. From September 2021, the VIP Subscription is renamed to Hotstar Mobile Package. You need at least 499 Super Coins in your Flipkart account to unlock the Disney+ Hotstar Mobile Subscription.
How to Unblock Hotstar Mobile with Super coin?
Firstly, open the Flipkart App on your Mobile.
Now Click on the Super coin Tab from the bottom menu.
Then Click the Rewards button> Entertainment Tab Link.
Finally, choose the "12 Months Subscription of Disney+ Hotstar Mobile" and pay with 499 Supercoins.
After that, you will get an Hotstar Gift Voucher. Copy the code for the next step.
Now install the Disney+ Hotstar Mobile App.
Login with your Mobile number.
Choose the Hotstar Mobile Pack and paste the Coupon Code.
Your Hotstar Mobile subscription for 1-year will be activated for free.
FAQ
What is the current price of a Hotstar VIP Subscription?
Currently, the Disney+ Hotstar VIP Plan is no longer available for purchase. Instead of VIP, you can choose the Hotstar Mobile plan at Rs.499/-
What to do If I have an active Hotstar VIP plan?
Hotstar changed the VIP plans from 01 September 2021. If you have purchased a 1-Year plan before September, you can enjoy all the benefits of the Hotstar VIP plan till the expiration date.
Can I upgrade from Hotstar Mobile Plan to Super Plan?
No, you can not upgrade your plan. If you want, then you can purchase the new plan by paying the full payment.
Can I watch IPL matches using the Hotstar Mobile plan?
Yes, you can watch IPL and all other Live matches with Hotstar Mobile Plan.
Is the Hotstar Premium content is accessible on a laptop or TV Devices with Mobile Plan?
If you have purchased the Hotstar Premium Mobile Plan, you can't access content through Laptop or Tv.
How many Logins are Allowed with Hotstar Premium?
Hotstar Mobile Maximum allowed Login is 1, with Super plan, it is 2, and with Premium, it is 4.
Is Hotstar VIP Free for Jio users?
No, Hotstar VIP is not free for Jio users. On recharging certain plans, it is Free for Jio users.