Jio Fiber 1 Year Free Subscription Trick has been officially released by Jio. Now You Can Get Unlimited 150 Mbps Unlimited Data For One Year Free, One Year All OTT Subscription and Unlimited Calls for Free. In this post, we have given a detailed description of this new offer of Jio Fiber.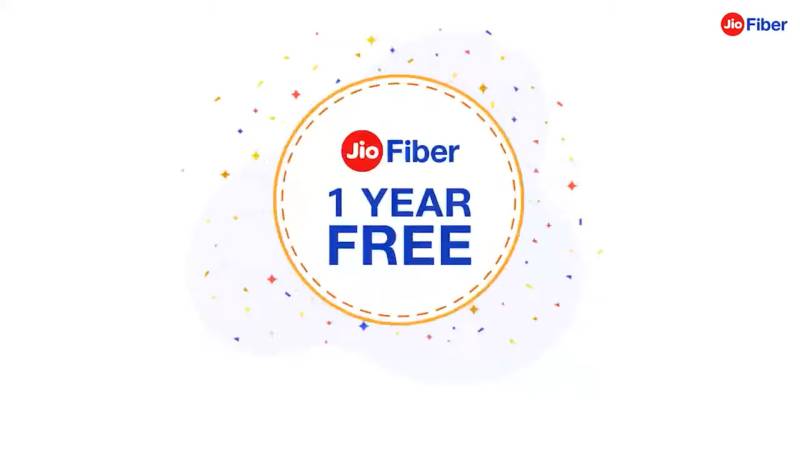 Reliance Jio created a tremendous effect in the Telecom industry. Due to this, some companies have completely closed and some have reached the verge of closure. Now Jio is going to expand its influence in the broadband sector through the optical fiber cable. Last year, Jio launched its new Product called Jio Fiber. As usual, it started providing a 1-month free trial to all users. But in the last month, the company announced a new 12-month free subscription offer. Let me explain the offer in detail.
Read: Amazon Gift Card Free September 2021: Unlimited Gift card Generator
Jio Fiber Free Service for 1 Year
During the 2018 Annual General Meeting of Reliance, the MD Shri Mukesh Ambani announced the launch of the new Jio Giga Fiber. After one year, the Company officially rolled out the plans in the Indian Market. As usual, the company started offering a 1-month package, and all top 13- OTT subscriptions for Free. They are as follows:
If you are a Jio SIM user, you can start your Jio Fiber 1-month free trial by paying just Rs.1500/- refundable charges. During this free trial period, you will get unlimited internet of 150 MBPS for 30 days, unlimited voice calls to any network, and ten popular OTT platforms free of cost. You can connect it to your TV (In Place of DTH Service) and enjoy uninterrupted entertainment services.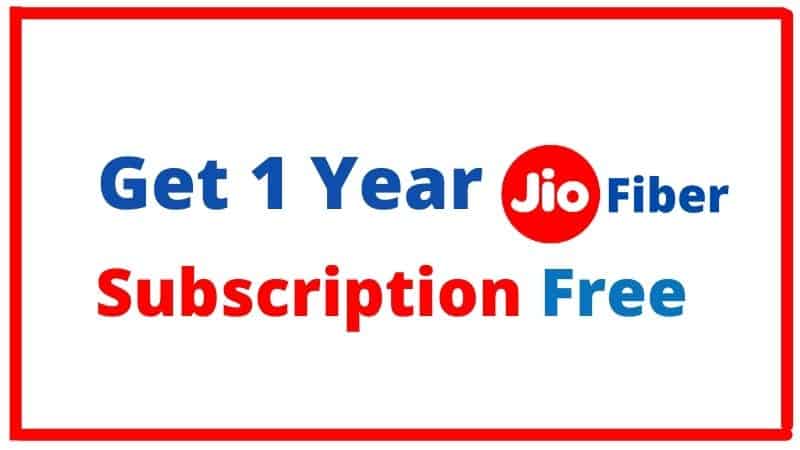 If you want to use Jio Fiber for free for one year, then first you have to activate 1-month free trial. Follow the steps to Activate Jio Fiber Free Trial.
Also Read: JIO Free Internet Tricks 2021: Get Guaranteed 100GB Free Data Balance
How to Activate Jio Fiber 1-Month Free Trial?
You can make the Reliance Jio Giga Fiber Free Trial request through various process. Such as My Jio App, www.jio.com, Calling Jio Customer care, and visiting the nearest Jio Store. However, here I have explained the Giga Fiber Activation using My Jio App.
First thing you need to do, open the 'My Jio App' in your app.
Click the Fiber Tab from the Top-Menu.
Press the Book Now Button from your screen.
Now Fill in the Address along with the Pin Code.
That's it. Next, the Company will call you to fix the Appointment for the Jio Fiber Connection.
After that you can start enjoying the unlimited 150 MBPS high Speed Internet service for the next 1-month. Now follow the next step to avail Jio Fiber 1 Year Free Subscription.
You May Like: Airtel Free Internet Tricks 2021: Claim 60GB Free Data Balance
How to get 12 Months Jio Fiber Subscription for Free?
Jio is offering many free services to acquire more customers. After giving a 1-month trial, the Company wants to attract more subscribers. So, now it has introduced a referral program, where anyone can invite 12 friends to the Jio Fiber platform. When their friend joins Jio Fiber using a referral code, the referrer will get an additional 1-Month Free Subscription Coupon. Hence, you can refer up to 12 friends to join the Jio Fiber service free trial using your Invitation code. After that, you can enjoy unlimited 1 year Jio Fiber Service.
How to Refer Friends to Jio Giga Fiber?
Jio Fiber Referral program is available through 'MY Jio App". Hence Download and install the application before proceeding further.
Step-1: First of all, Login to My Jio App
Step-2: Navigate to the Fiber Profile from the Top menu.
Step-3: After that, Click on the Side Menu Option>> Refer a Friend option.
Step-4: Now Select 10 contacts from your contact list and Tap on Proceed Button.
Step-5 Now the referral code will be shared with your friends. Then ask them to Book the Jio Fiber using your Referral Code.
Step-6: After the registration, you will get a Datat Voucher code in your My Jio App. You can redeem that code whenever you want.
Note: The Validity of these vouchers is 90-days. So redeem them as soon as possible.
You can refer maximum 12 persons to Jio Fiber and enjoy 12-months of Jio Fiber Service for Free of cost.
Also See: Sony Liv Premium Account Free: Get 1 Year Subscription Free