Garena Free Fire Game is now getting popular among people. Everyone is trying to play the game using Best Characters in Free Fire and powerful character. Here get a complete list.
Free Fire offers several gaming features like characters and pets which enhance the gaming experience to the next level. The gaming character with whom you conquer your game is the dearest artificial friend in the game.
Your gaming character defines you and one of the essential factors to determine your gameplay. The best character helps you to push your rank and thus up your tier. Each character in Garena Free Fire possesses their special abilities and individuality.
There are 40+ awesome characters in Garena Free Fire and it is hard to choose five between them. However, before writing this article we analyse and experience each character individually. And after judging all factors and criteria, we conclude this list of the five most OP characters in the game.
So let's get straight into it.
Top Five best Free Fire Characters in 2021
No.05 Camouflage Character (Wukong)
Camouflage is the 5th most potent character which is slightly inspired by Monkey King. Camouflage is popularly known by the name Wukong. It empowers with a special ability that it could turn into bushes. It helps the player to hide from the enemies during range combat.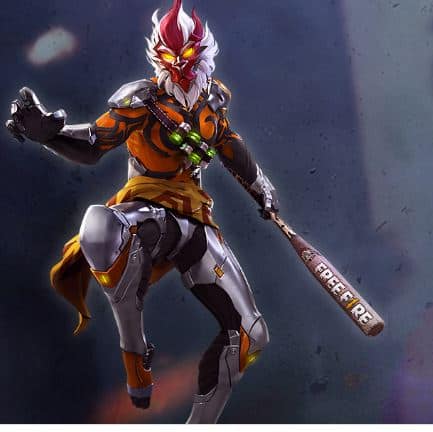 Wukong avoids damages by activating camouflage for 14 seconds. There are eight levels of the character, and with each level unlocking, you can experience the increase of potential. Along with all of these amazing features, it has 300 seconds of cool down which reduces to 200 seconds at the max level. An AI implanted in Wukong brain made him behave like a human being. It has a dashing human monkey crossbody that makes him cool. You can purchase it from the game store. To unlock this amazing character you need to spare 499 diamonds which is less than expected.
No.04 K Character
K is also known as Captain Booyah, are a professor and jiujitsu expert. He is the most unique character with dual modes- jiujitsu mode and psychology mode. K added to the game at the time of KSHMR collaboration but it is still one of the badass characters in the game. It avails an aura while using power. You can purchase K by spending 499 diamonds only.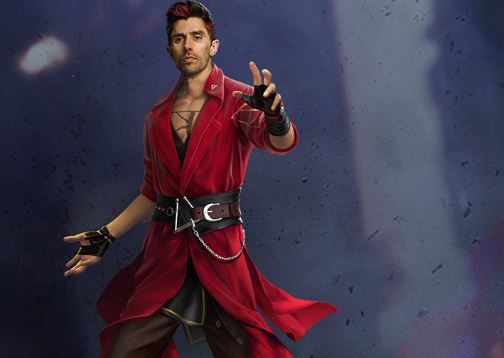 In Psychology mode, it recovers 2 EP in every 3-sec interval, up to 100. And while using Jiujitsu mode you and your crewmates get a 500% increase in EP conversion rate within a 6m of the radius. Besides these, it also possesses 20 seconds of a cool down in mode switch. It also has eight levels of power to unlock its full flange.
NO. 03 DJ Alok Character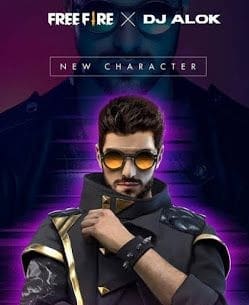 DJ Alok is one of the most unique characters, and most of you listed him on the top before the OB26 update. Drop the beat is the ability which makes him one of the deadly characters in the game. By using it he can create a 5m aura that increases the allied movement by 10% and recovers 5 HP per second for 5 seconds. If you are a rushing type then this is the best-suited character for you. It is also helpful in Solo vs Squad. The speed enhanced up to 15% in the max level and also the other abilities get boosted. You can have Alok from the Free Fire store at a price of 599 diamonds.
Read More about: DJ Alok Character in Free Fire
No.02 Chrono Character
Chrono is the most popular and most powerful character in Free Fire Universe. Chrono has a unique ability to create a force shield that can block 600 damages from enemies. The best part is you can damage and attack your enemies from the shield.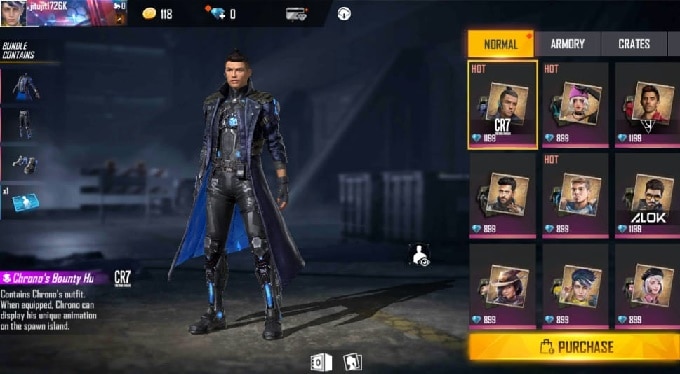 If you're a football diehard then you get flattered to know that Chrono is inspired by Cristiano Ronaldo. Chrono is a Bounty Hunter who looks like CR7. It would be the best choice for solo players. You can avail Chrono right now in exchange for 100 diamonds. It develops your speed up to 15% at the base level. The player and the teammates within the Time wrap field will get a boost to the movement. The force field will last for 10 seconds and it also gives 50-sec cooldown. When you'll max your Chrono you can experience a 30% increase in speed and also a more reduced cooldown.
Read More about: CR7 Chrono Character
No.01 Skyler (Most Powerful Character as of now)
Skyler is introduced in the game on the 9th of March 2021 with the latest OB26 update. This is the most exclusive, potent, overpowered character with unique skill sets in the game. The ability of Skyler is kind of time-independent which brought him top on the list. This character is inspired by Vietnamese artist Son Tung M-TP.
Skyler has a unique ability of Riptide Rhythm which allows him to damage five gloo walls within 50m of a radius at his base level. The amazing part which drags our attention is it automatically recovers HP while demolishing gloo walls. It also has a cooldown of 60 seconds.
There are six levels to stepping up to the maximum potential for this character. At the max level, you get twice the radius of damage along with a lesser cooldown. You can purchase 500 diamonds from the top-up to acquire both Skyler and Character bundle from the 'Superstar Top UP' event.
Last Words
Special abilities of Characters, Unique pets make Free Fire one of the best Android Battle Royal Game. Most of the battle royal games have characters, but those are only for appearance. Garena Free Fire unlike others features rare and unique ability with each character. Lastly, we conclude that these characters and their rare abilities offer more enthusiastic gameplay to the user.
You may Like: 150+ Best Stylish Free Fire Names 2021